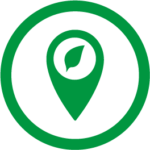 Eiffage supports cities and regions in the decarbonisation of transport by offering specific alternative mobility solutions that emit less CO2, enabling us to think differently about transport and contribute to the fight against globalwarming .
Through different strategies such as autonomous shuttles , highway lanes reserved for carpooling, smart lighting, electric mobility, urban cable car… As aglobal player , we integrate transport decarbonisation into our development projects, in order to break with the use of transport that is overly dependent on fossilfuels and highly individualised. 
The goal is to reconcile the reduction of carbon emissions and mobility for all, to support the development of smooth and low-carbon mobility, as well as to promote public transport and thus contribute to the goal of "net-zero artificialisation".