We are leaders in the execution of wind energy projects and one of the pioneering companies in the construction of the first wind energy facilities built in Spain and other countries around the world.
It was in 1987 when we participated in the first wind power project to be built in Spain, the construction of the Ontalafia wind farm (Albacete), co-financed by the European Union and the Spanish Government, for which we acted as the main contractor.
We performed a turnkey service for this experimental project, the success of which marked the beginning of the construction of wind farms in Spain.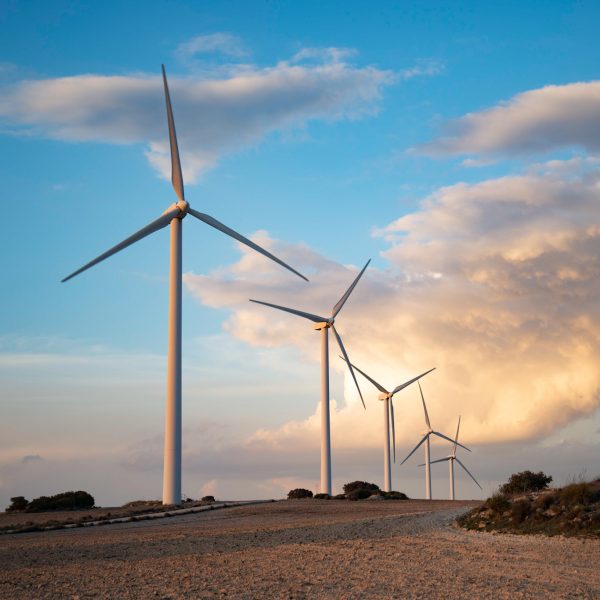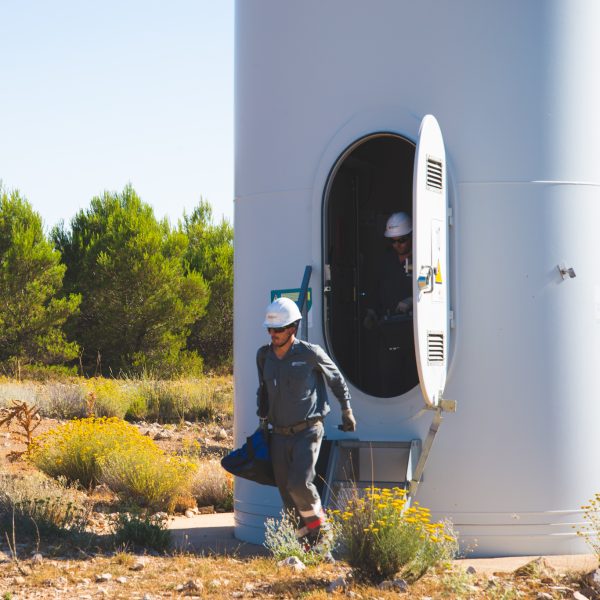 Over 30 years later, we can say that we have become one of the most experienced and solid wind farm "EPC" companies on the market.
We provide a global service including civil works, electromechanical works and all the electrical infrastructures required for the evacuation of the generated power.
The figures from 2020 show data that endorse our position in the sector: 90 wind farms constructed, producing almost 3.3 GW, with the construction of 2,300 wind turbines in Spain, as well as in countries like Poland, Belgium, Portugal, Senegal, Mexico, Chile, Jamaica, Brazil and England.
de metros de cables tendidos
We have extensive experience in the construction of solar projects, we are one of the benchmark companies in the BOS and EPC construction of photovoltaic installations in Spain and overseas.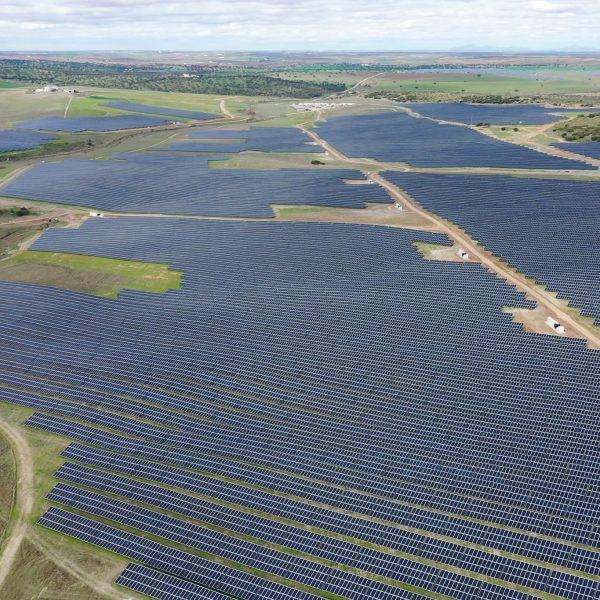 We specialize in 360º projects, including facilities design, the supply of the material required for their construction (modules, inverters, structure, etc.), the civil works and the optimization of photovoltaic facilities to achieve maximum profitability. Our technical team's experience is synonymous with quality and success in any project.
Internationally, Eiffage Energía is one of the most prominent Spanish companies in the sector. The internationalisation process began in 2008 in Europe, with the turnkey construction of the Amareleja photovoltaic solar plant in Portugal.
In 2013 we began to develop major projects in Latam, especially in Chile, where we participate in more than 30% of the photovoltaic projects under construction.
In 2019, Eiffage Energía installed a total of 1,012 MW of photovoltaic power through projects built in Spain, Mexico, Chile and Jamaica. Of these, more than 750 MW were installed in Spain.
Among the most important projects that were commissioned in 2019, emphasis should be placed on the Huatacondo Solar Farm, in Chile, and the Paradise Park Farm in Jamaica.
According to figures from 2020, we have built 80 photovoltaic plants with an installed power of 3.5 GW.
These figures make us one of the leading companies in the construction of these facilities, both in Spain and internationally.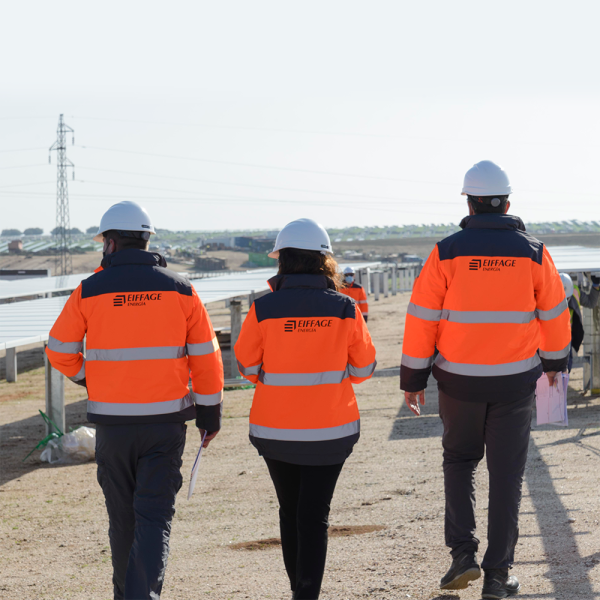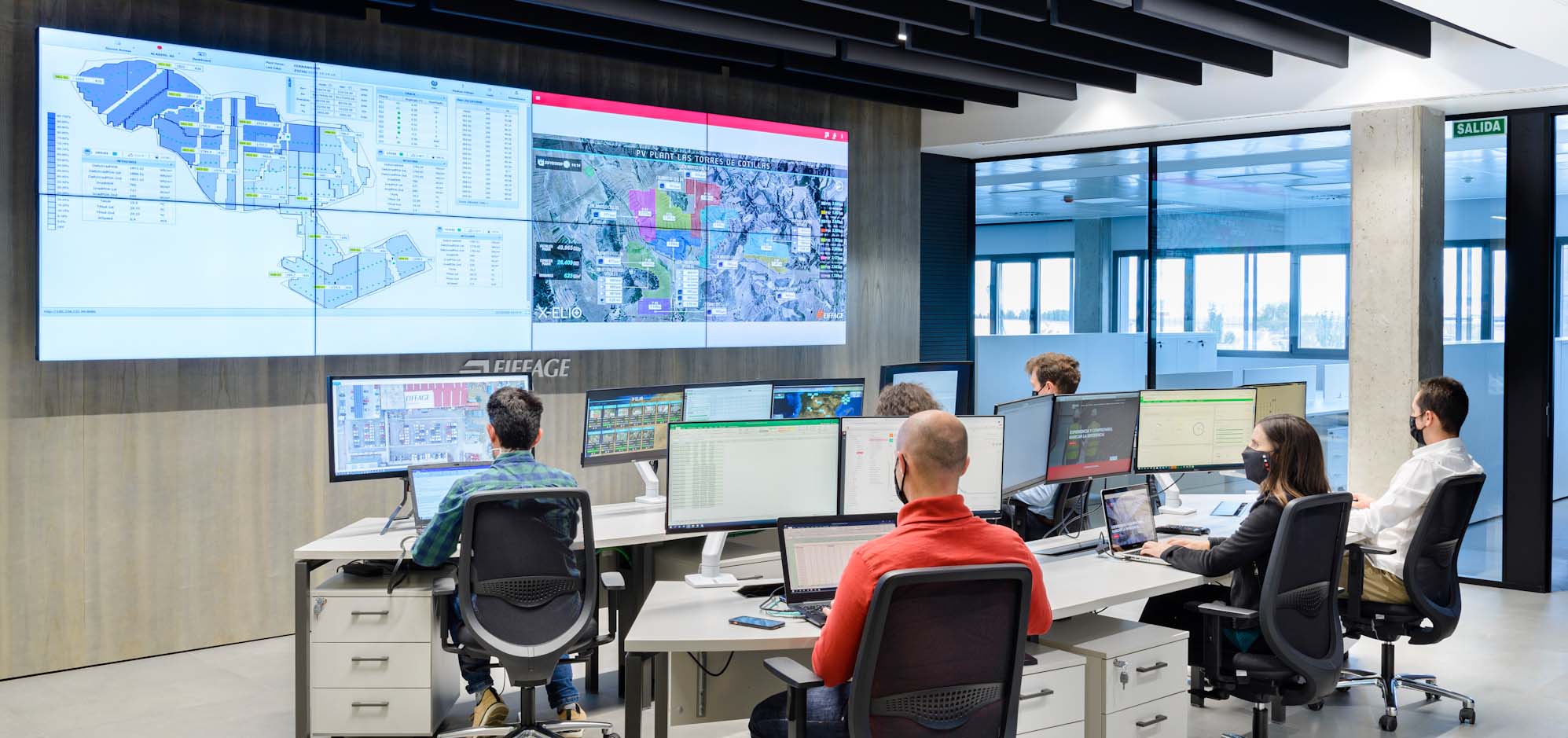 O&M DE INSTALACIONES RENOVABLES
Departamento de Operación y Mantenimiento consolidado en España con personal altamente cualificado, sinónimo de calidad y éxito en cualquier proyecto. Con más de 10 años de experiencia realizando trabajos de O&M en plantas fotovoltaicas y parque eólicos. Cumpliendo con las medidas de Seguridad y Salud, Medioambiente y Calidad vigentes.
Contamos con un equipo de más de 250 profesionales entre Ingenieros técnicos, Jefes de equipo y oficiales de primera.
El nivel de calidad y prevención de riesgos exigidos por nuestros clientes en esta actividad, nos permite mejorar cada día como empresa, manteniendo el firme compromiso de alcanzar los más altos estándares.
Análisis termográfico con Drones:
Especialización en exclusiva de medios técnicos y humanos.
Eiffage Energía dispone de drones para la realización de inspecciones termográficas de las planta solar y revisión de instalaciones en general
En 2021 volaremos más de 2000 km de superficie y sobre más de 6 millones de paneles fotovoltaicos
Nuestro objetivo: alargar la vida útil de las plantas solares
Nuestro Call Center y sistemas de retenes nos permiten ofrecer un servicio de atención de averías a nuestros clientes durante 24 horas, 365 días al año.
Homologada por las principales compañías eléctricas, actualmente trabajamos con las más importantes que operan en el país: Endesa, Iberdrola, EDP/HC Energía y Unión Fenosa.
plantas fotovoltaicas mantenidas
Mantenimiento de equipos FV´s
Mantenimiento especializado en Inversores: Conergy, Power One, Schneider, SMA, Solarmax, Gamesa, Powe Electronics, etc.
Mantenimiento especializado en Seguidores, Pairan, Conergy, etc.
Análisis de Rendimiento de Inversores
Realización de informes
Análisis Curvas I-V