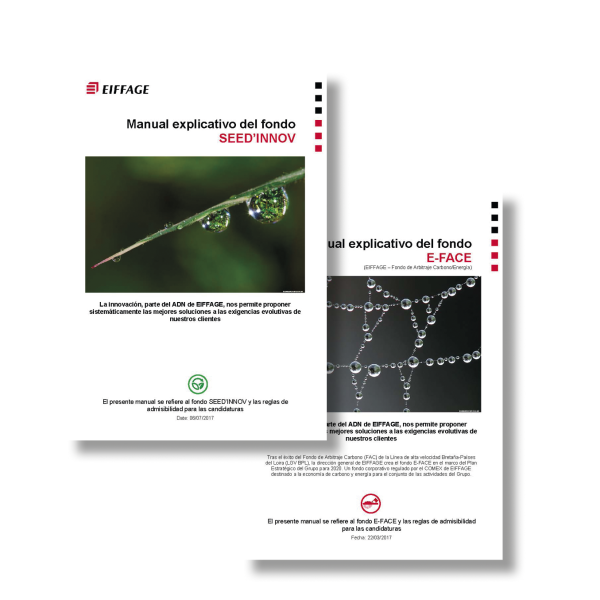 SUPPLEMENTARY FINANCING FUNDS
Eiffage makes a difference through innovation through its corporate funds E-FACE (Eiffage – Carbon Energy Arbitrage Fund) and SEED'INNOV. Innovation, part of Eiffage's DNA, allows us to systematically propose the best solutions to the evolving demands of our customers and the climate transition.
With a yearly endowment of two million euros, SEED'INNOV is an internal fund that co-finances innovations devised by one or more Group subsidiaries to differentiate or improve the competitiveness of their commercial offerings. Its goal is to drive internal innovation, sharing the potential financial risk associated with an innovative proposal and accelerating its commercialization process.
In addition, the E-FACE fund, which stands for "Eiffage – Carbon Energy Arbitrage  Fund" , also endowed with two million euros per year , ispart of the Group's "Carbon-Energy" action plan, which aims to integrate all its lines of business into the energy transition. E-FACE finances the cost overrun between a cheaper traditional technical or material solution, and an alternative, low carbon equivalent, which is generally more expensive.
This offsetting unlocks the integration of these solutions into the supply and helps reduce the overall carbon footprint of the project.
Eiffage Energía Sistemas is constantly working on numerous developments, both for its own management and operation, as well as for its commercial supply.