The CEO of Eiffage Energía, José Manuel Martínez, signs an op-ed piece recently published in the September 2016 issue of the magazine specialised in economics and business Executive Sector.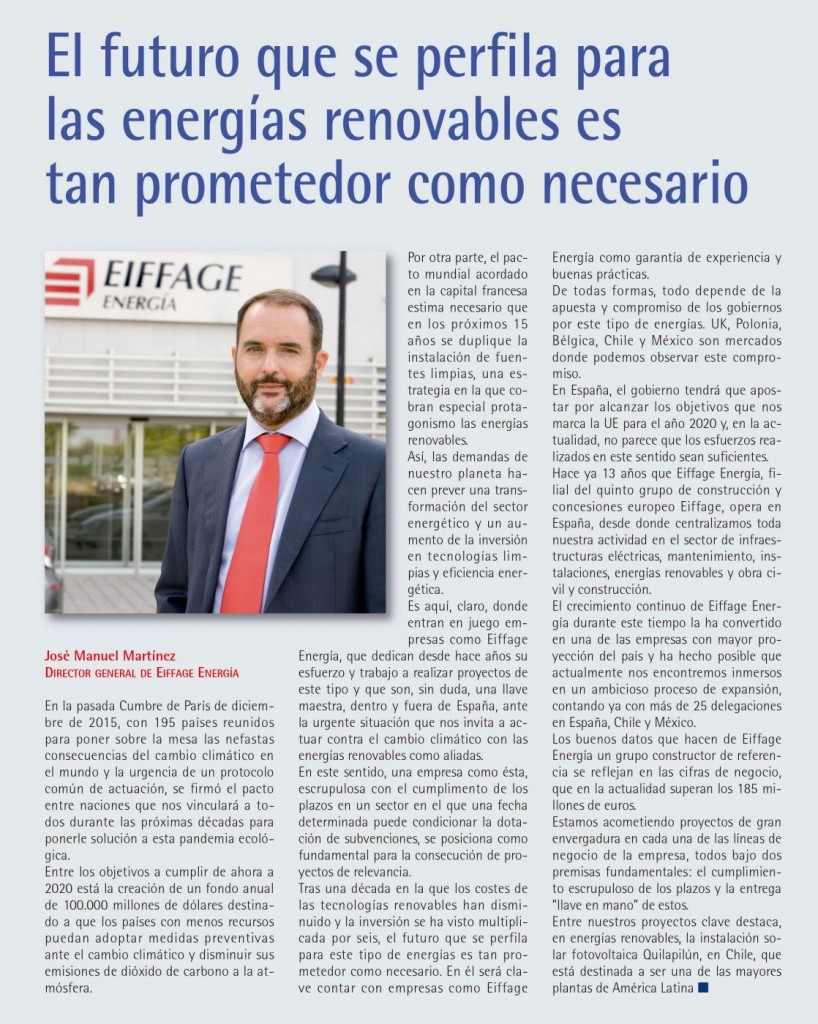 Based on the agreements reached at the last summit in Paris in December 2015, where became clear the need to reach international alliances to respond to the climate change that threatens our planet, Martínez speaks of renewable energy as a key development.
Thus, the CEO of Eiffage Energía firmly believes that the solution to the ecological pandemic we are experiencing depends on counting on more sustainable energy sources, a field in which this subsidiary in Spain of the fifth European construction and concessions group Eiffage has already been working ceaselessly for years.
As he indicates in his article, companies like Eiffage Energía, who have, for some time, dedicated their efforts to performing renewable energy projects inside and outside Spain, are the master key to achieving the objectives of the international agenda by the year 2020.
Believing in the success of green energy, the company takes this commitment to the environment very seriously. In this way, and although its activity also focuses on other sectors such as electrical infrastructure, maintenance, installations, civil engineering and construction, projects in renewable energy gain more strength every day both within our country and without.
This activity in renewable energies is, in particular, 50 photovoltaic plants and 80 wind farms worldwide with such prominent projects as the solar photovoltaic facility Quilapilún in Chile, undoubtedly destined to be one of the largest plants in Latin America.
Finally, as Martínez highlights in his opinion piece, it is essential that our government opts to meet the objectives that the EU marks for us by 2020, and that it intensifies its efforts in this regard.
You can read the full article in Executive Sector.