At Eiffage Energía we are well aware that our workers are the main key which allows us to continue growing and developing an activity to excellent levels. For this reason, we make each one of them our priority and work every day to improve their work experience.
Finally, along these lines the company's new corporate intranet is born, which we are making available to all Eiffage Energía employees. It acts as a website that aims to improve the management of our company, and from which employees can access, in the most simply and effective manner possible, numerous utilities for their day to day.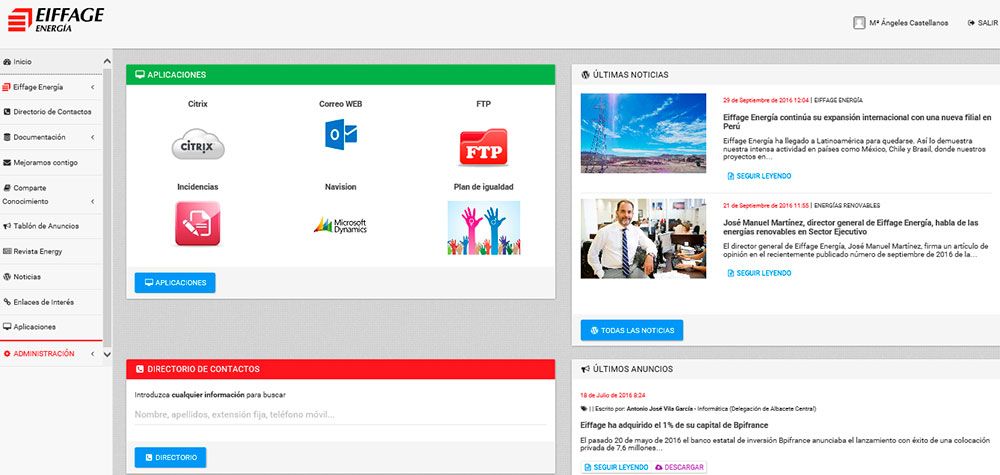 This intranet is presented as a powerful upgrade to the previous tool, and it has been designed with the clear objective of improving internal communication between all workers in the Eiffage Energía group. Among its new features, users will find improvements aimed at facilitating its access and finding, more easily than ever, contents that may be of interest.
So that, now they can enjoy:
Intranet access from outside the office. With the previous intranet that was impossible, because it could only be accessed from within our offices; with the new tool, access has been improved. From now on, all Eiffage Energía workers, whether they have a computer in their workplace or not, will be able to enter our intranet from anywhere. Thus, it will be available at all times for 100% of the workforce.
New document manager. The new intranet features allow users to access and search for documents faster and more efficiently. In addition, the personnel of each department authorised to do so, may add their own documentation setting different levels of access.
New directory. With the upgrade of the intranet it will be possible to access a complete directory of contacts classified by company, delegation and department and updated in real time with the management program of the group. It will also have a more efficient search engine to facilitate, to its users, this type of task.
New sections. Furthermore, creating new sections will enable improved communication between Eiffage Energía Group employees. Among these sections will be the section Improving with you, Share your knowledge and the Energy Magazine, as well as direct access to the news and current affairs section of the company's website.
A much more intuitive web. Based on the experience of the old intranet, we have managed to improve the website so that it is much more intuitive to interact with, leaving main sections clearly visible such as the organisation chart, our delegations (which can be seen on an interactive map) and all our corporate image, among other topics.
Soon our new intranet will be available to all Eiffage Energía Group workers. We look forward to hearing your comments.