Puy du Fou. Eiffage Energía hosted the presentation of Puy du Fou Españaat the Albacete branch of the board of Puy du Fou España. This is an ambitious project that combines family-focused leisure activities with an incredible staging of some key episodes and characters of the history of our country. We have contributed to this project by constructing two of the main show venues. The meeting was attended by Nacho Hernando, Minister for Development of the Regional Government of Castilla-La Mancha, ; Erwan de la Villéon, CEO of Puy du Fou España; and José Manuel Martínez, our CEO and delegate of Eiffage in Spain, .
El último Cantar and Allende la Mar Océana
During his speech, José Manuel Martínez explained Eiffage Energía's participation in this project. "On the one hand,we have built the venue for show El Último Cantar. A hugec castle of the Middle Ages of 8,600 m² and 20 m high. The centre of the building is fitted with a 360 degree rotating stand with a diameter of 47 m, allowing the audience to enjoy several shows performed on six stage spaces distributed around the building's perimeter. All for the creation of a lavish show that narrates the life and exploits of Rodrigo Diaz de Vivar, El Cid". We have also built the building that houses the historical tour called Allende la Mar Océana. A unique experience where visitors embark on the Nao Santa Maria along with the crew of Christopher Columbus. All these projects have been carried out together with our construction subsidiary, Conscytec, which has extensive experience in this sector. "We are very proud to accompany Puy du Fou España in the presentation of this initiative to the people of Albacete and to be actively participating in the construction of such an emblematic project for our Region and for our country. A project that is sure to be visited by millions of people," said our CEO and delegate of Eiffage in Spain.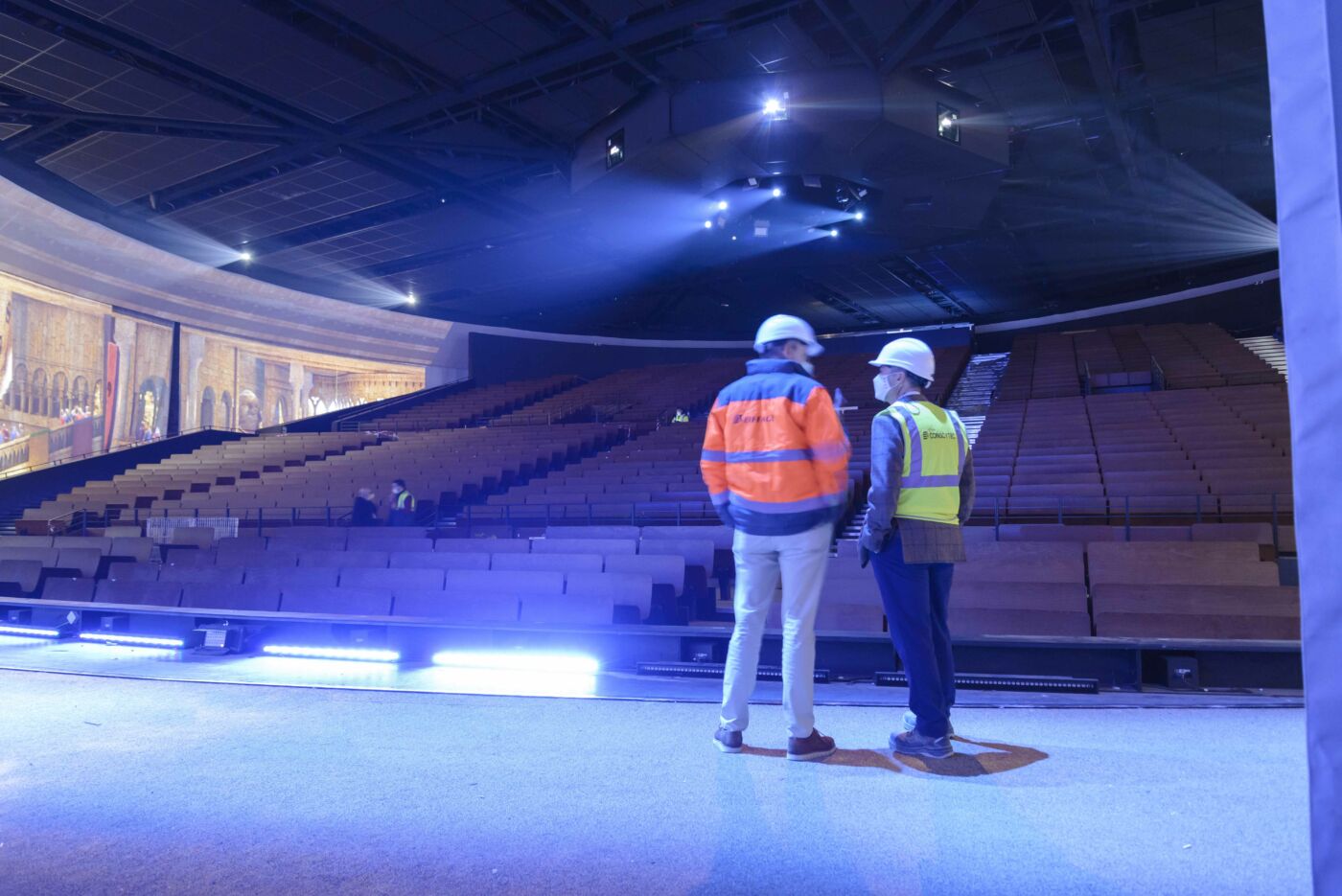 200 direct jobs and 150 indirect jobs
For his part, the CEO of Puy du Fou España, explained the details of the shows that make up this special journey through time and highlighted the great reception it has had among the people of Castilla-La Mancha. "Despitethe perimeter closure, we see that our neighbours are exceeding our expectations of visits and that fills us with pride because we want them to be our first ambassadors. And, above all, they leave here excited, satisfied and eager to return". Erwan De la Villéon believes that this excellent response has come about because "people perceive that it is a safe, open-air venue with plenty of space. People are distributed throughout the 30 hectares of the park through paths, small squares, and nature trails. In an environment with pure air far from the asphalt and the agglomerations of the cities. This is mirrored in the survey results as 99% of visitors recommend the visit and 95% would repeat the visit this season".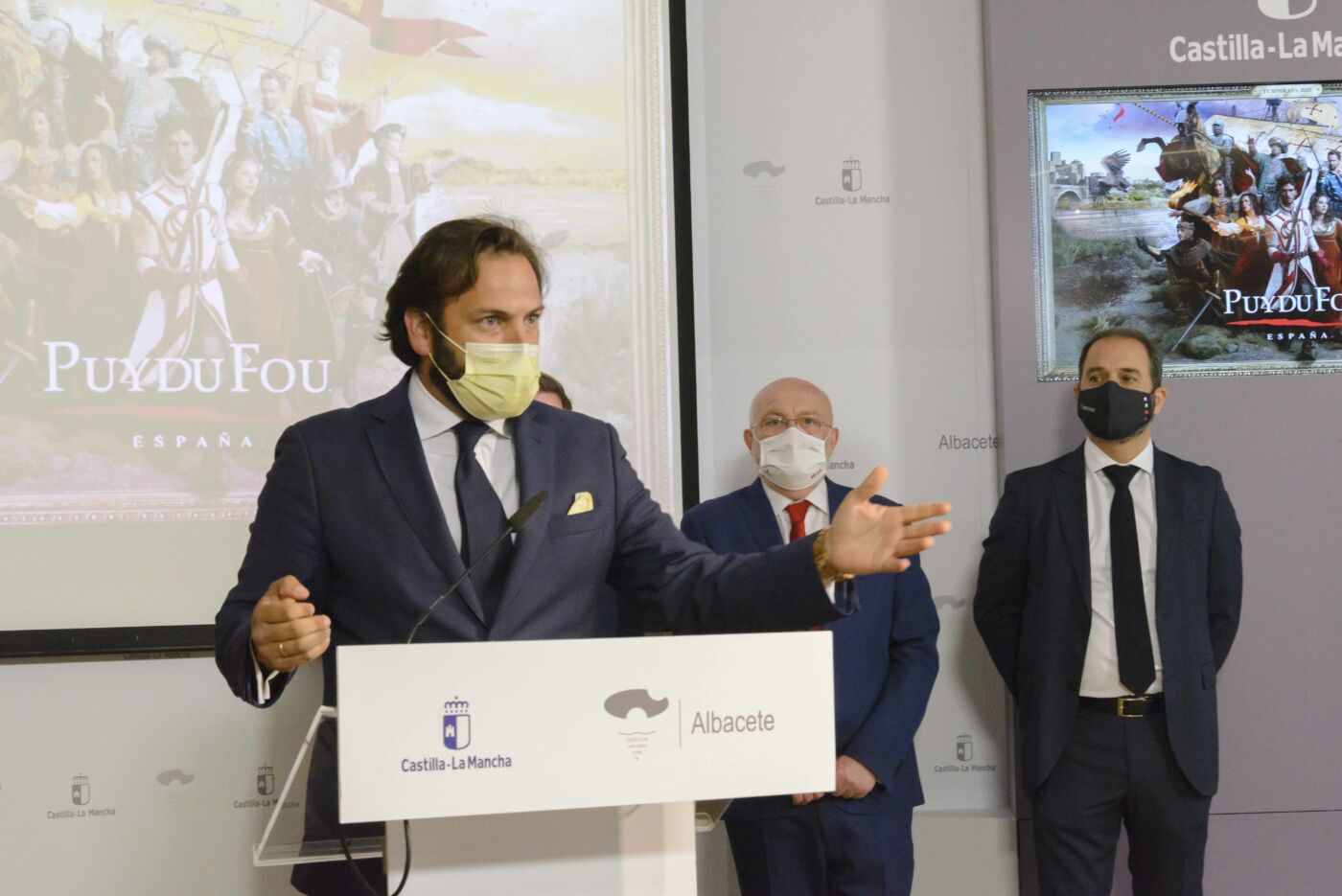 De la Villéon has especially recognised the work carried out by Eiffage Energía, whose contribution has generated more than 150 direct jobs and more than 200 indirect jobs. The CEO of Puy du Fou España has asked José Manuel Martínez if this is the most beautiful work that Eiffage Energía has built in Spain, stating that many people from Albacete have given their all to build a dream.
Pride for the Regional Government of Castilla-La Mancha
The Minister for Development of the Junta de Comunidades de Castilla-La Mancha has shown a "clear sense of pride as a Castilian-Manchego to belong to such a great project. Puy du Fou España serves to light the fuse of illusion and excitement in visitors of all ages. He also highlighted that "a company as important in Albacete and Castilla-La Mancha as Eiffage Energía" has contributed to the construction of this project. The attendees have encouraged all Albacete citizens to get to know Puy du Fou España and enjoy this wonderful experience that has just started and is receiving such good reviews.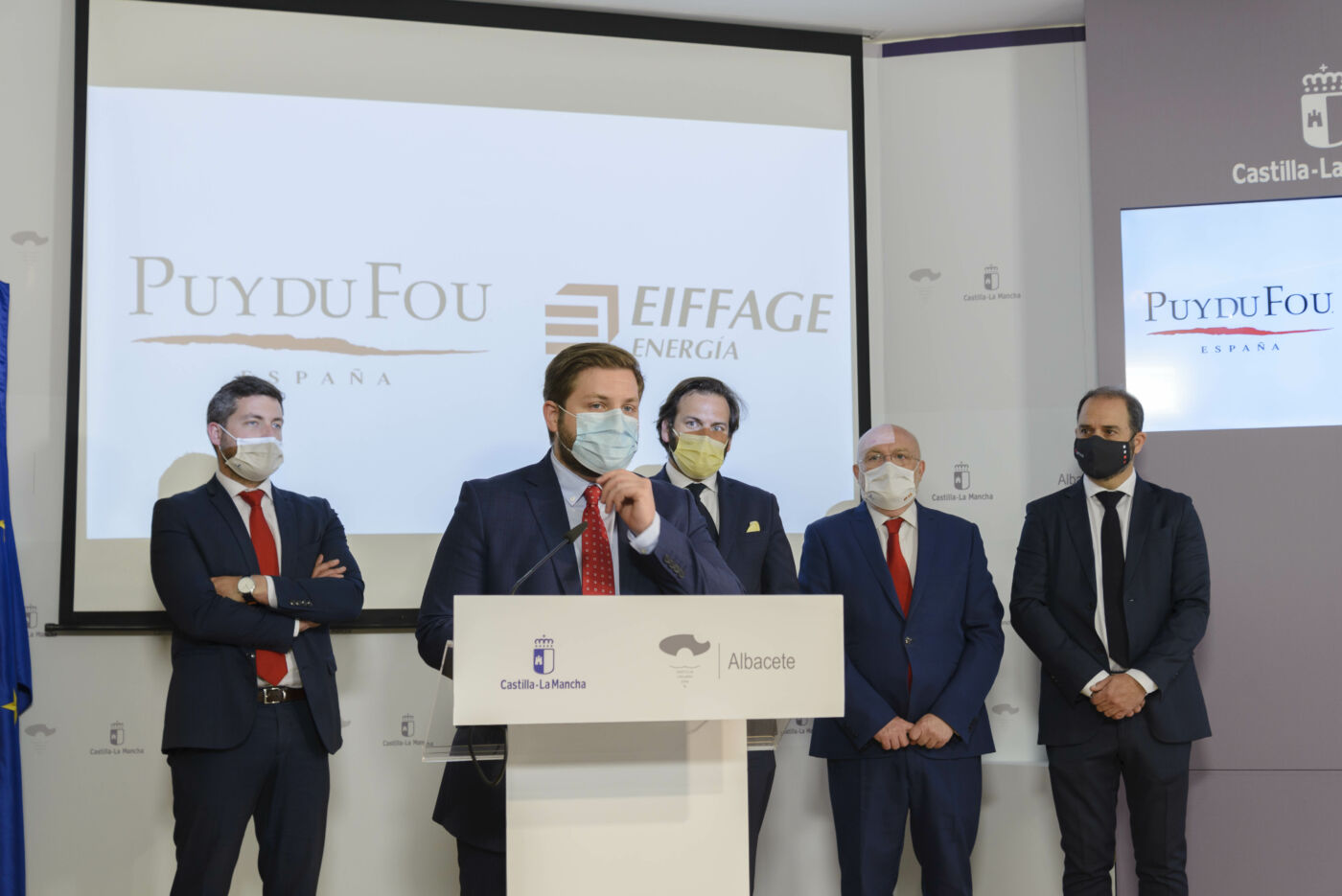 About Puy Du Fou España
Puy du Fou España opened its doors last Saturday, 27 March, with four new shows. Four historic villages, artisan workshops, inns, mansions and 30 hectares of nature. The Spanish project inspired by the French park, which has twice been awarded "Best Park in the World", landed in our country in August 2019 with its first big night-time show: "The Dream of Toledo". The creation, which achieved resounding public success and critical acclaim, exceeded the team's own expectations with more than 120,000 spectators during the first two seasons despite the necessary restrictions generated by the health situation. Since then, Puy du Fou España has been working on the opening of a spectacular world of time travel, which opens its doors to the public for the first time today. Puy du Fou España presented the four new shows, with elaborate scripts, spectacular choreography, magnificent costumes and stunning special effects. In addition to the four theatres, visitors can also discover four historic villages with more than 20 inns, taverns and mansions, and workshops where artisans practice their traditional trades, explaining their arts and crafts to visitors. These include blacksmiths, illuminators, tinkers, confectioners, bookbinders, ceramists, espadrille makers and soap makers. Link to see the official trailer of Puy du Fou España 2021.
Practical information on Puy du Fou
Puy du Fou Spain – CM 40, Exit 13 – 45004 Toledo 8 minutes by car from the centre of Toledo 55 minutes from Madrid Ticket sales:
Through Internet www.puydufou.com
By phone (+34) 925 63 01 35
Pricing: Tickets to Puy du Fou España from €27 and to the night show ·The Dream of Toledo" from €24 Consult opening schedule here