Responsibility, trust and transparency are just three of the many values which a company like Eiffage Energía professes. Putting these principles in the forefront has led to Forbes Magazine including, among its pages on leadership and technology, a chat with José Manuel Martínez, CEO of Eiffage Energía.
"Zero Accidents" is the main objective of Eiffage Energía for society and all workers and employees of the team. The company with Head Office in Albacete continues to take on new contracts and to implement renewable energy projects on every continent.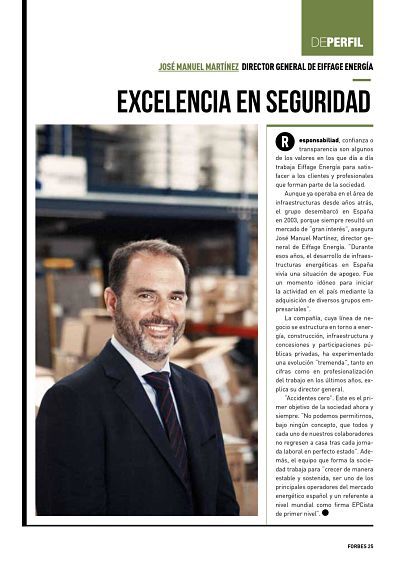 Many specialised media have echoed the impact made by Eiffage Energía in the market for renewable energy, electrical infrastructures, maintenance, installations, electro-medicine, construction and civil engineering. And in this latest interview in the Forbes special issue, it is also clear that Eiffage Energía leads in safety excellence and is a world leader as a first level EPC firm.
Its tremendous growth in both numbers and in professionalisation of labour has enabled Eiffage Energía to continue growing in a stable and sustainable manner, and to continue to do so in the coming years.