The managing director and CEO of Eiffage Energía, José Manuel Martínez, has just collected the Special Award for Best Supplier of the year 2019 awarded by Iberdrola, for its responsibility, quality and safety and its contribution to the business, applying its great technological capacity, both in the area of renewable energies and that of distribution networks.
For another year Iberdrola recognises with these awards the support of 11 companies, from which it makes purchases of more than 1,500 million euros per year, in its strategy of leading the energy transition.
In this way, the Iberdrola group hopes to encourage and recognise excellence, sustainable development, quality, internationalisation, innovation, corporate social responsibility, job creation and the prevention of occupational risks.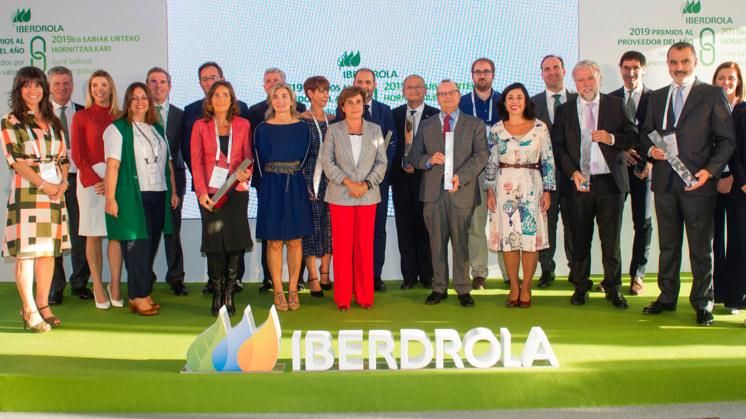 For Eiffage Energía, this recognition is very important, as it comes from one of its main customers, with whom it has been working for 20 years, the two decades that the company has been in the field of renewable energy and which began with the Higueruela wind farm of 115 MW in the province of Albacete, built for Iberdrola in 1999.
Eiffage Energía is, therefore, a long-standing supplier for Iberdrola, collaborating with the company both in the area of renewable energies, and in that of distribution networks, with projects as relevant as Núñez de Balboa (500 MW) – the largest photovoltaic plant under construction in Europe – or the Chimiche wind farm, the first Iberdrola wind farm in the Canary Islands.
The awards ceremony, which took place at the Iberdrola Tower in Bilbao, was presided over by Ángeles Santamaría, Managing Director of Iberdrola Spain, accompanied by the Purchasing and Insurance Director of Iberdrola, Asís Canales, and was attended by more than 250 guests, including numerous representatives of the supplier companies with which Iberdrola collaborates in Spain.
The news in the media: