Safety at work is back in the spotlight at the Eiffage Energía Group, as this week we kicked off Safety Month, which will include a series of activities between now and 10 July.
The slogan this year is: "All workers: Sharing our good practices"
Due to Covid-19, it will not be possible on this occasion to hold the different meetings and workshops for group activities in a single week, as was done in the past.
Participation of all employees
The geographic scope of these events will be national and international. Thus, in this "Safety Month", all company employees will participate in all its activities. The aim is to get them involved and improve their safety conditions.
Each territory or subsidiary will organise a safety challenge to gather feedback on best practices.
Spain-France
The winners from each area will participate in the Eiffage Group challenge. Accordingly, they will compete in a new challenge in Paris with all the companies in the Energy branch. At the end, the winners will travel to Paris to collect their prizes. These events are part of the occupational safety improvement process. The associated goals are as follows: -To encourage and promote feedback on best practices in all risk situations. -To know how to identify and analyse high-risk situations and define the prevention actions required.
One of Eiffage Energía's mainstays
Occupational risk prevention is a mainstay of Eiffage Energía, as evidenced by its low occupational accident rates.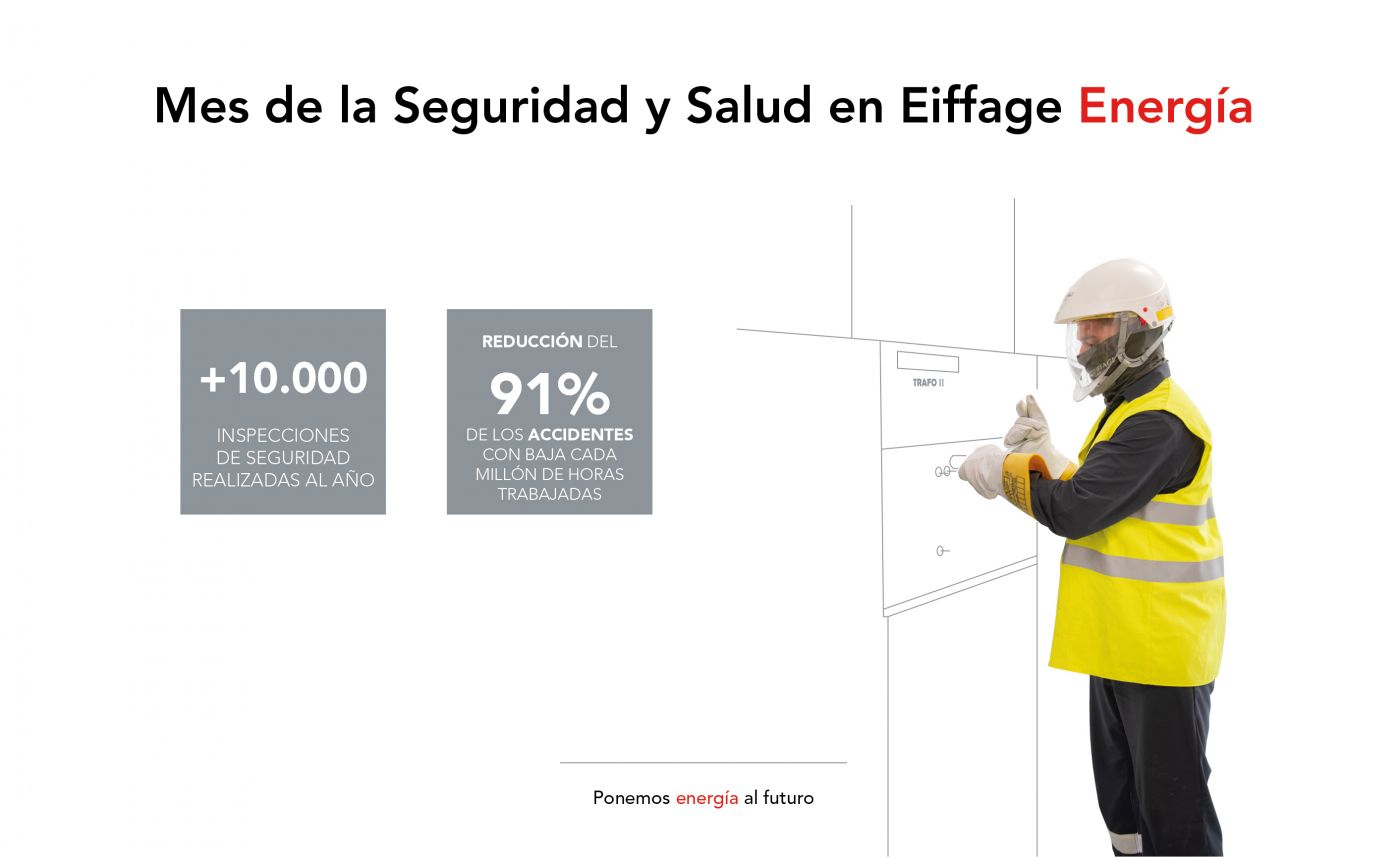 Currently, Eiffage Energía's Joint Prevention Service, created in 2009, is made up of more than 55 senior occupational risk prevention officers. These officers are distributed throughout the different geographical areas in which the group operates. In addition, they specialise in all the company's lines of business: Electric Infrastructures, Renewable Energies, Installations, Civil Engineering, Construction and Maintenance and Electromedicine.
Spectacular results
All this effort has been validated by spectacular results in all the indices used to track the accident rate in any field or sector. These results have been accompanied by a parallel increase in the number of employees in recent years, from a total workforce of 1,076 at the end of 2010 to 3,449 at the end of February 2020.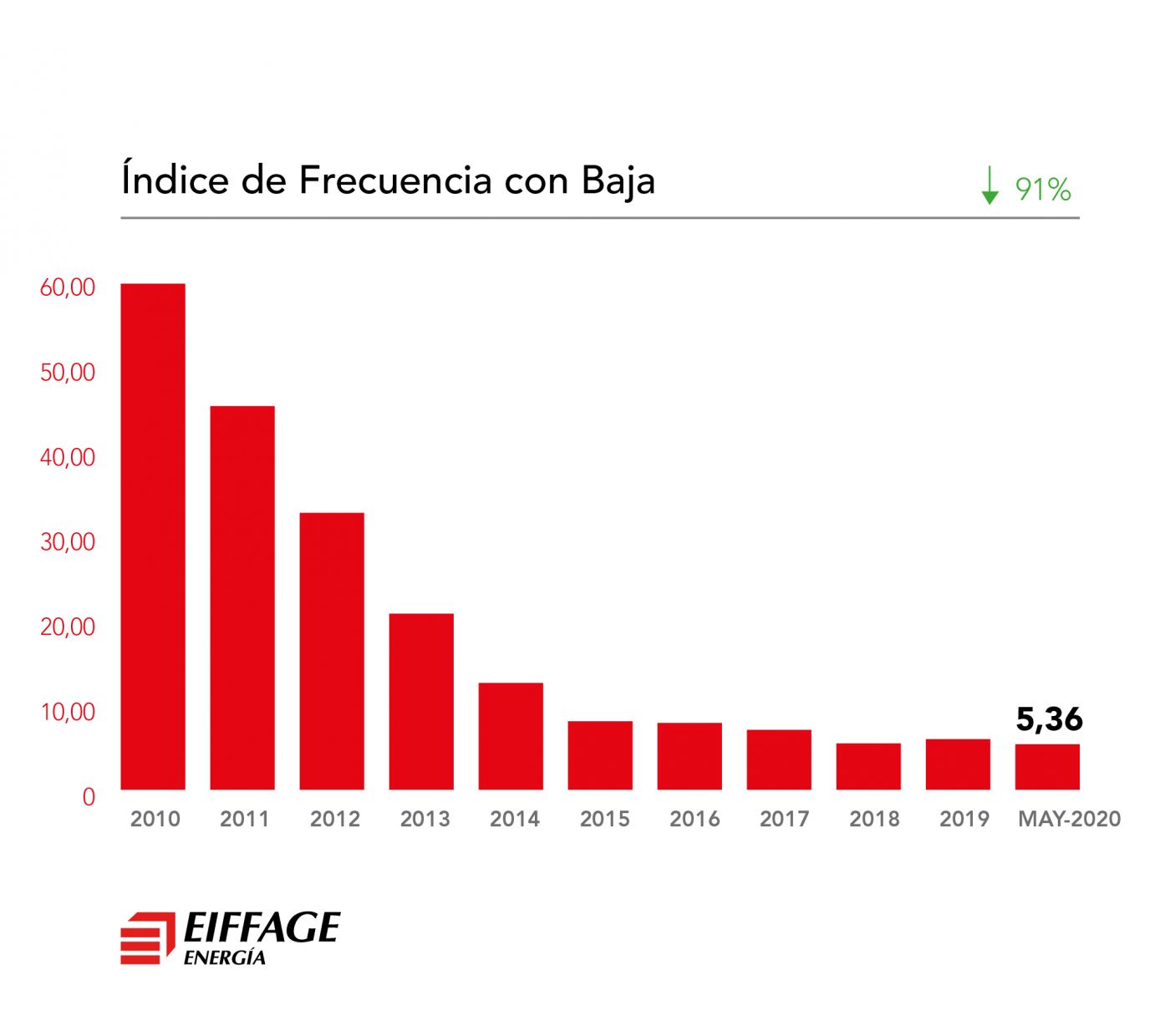 One of these indices is the Frequency Index, which expresses the number of lost-time accidents per million hours worked. The value of this index in 2010 was 59.59, and it fell to 5.36 at the end of May 2020, a 91% decrease.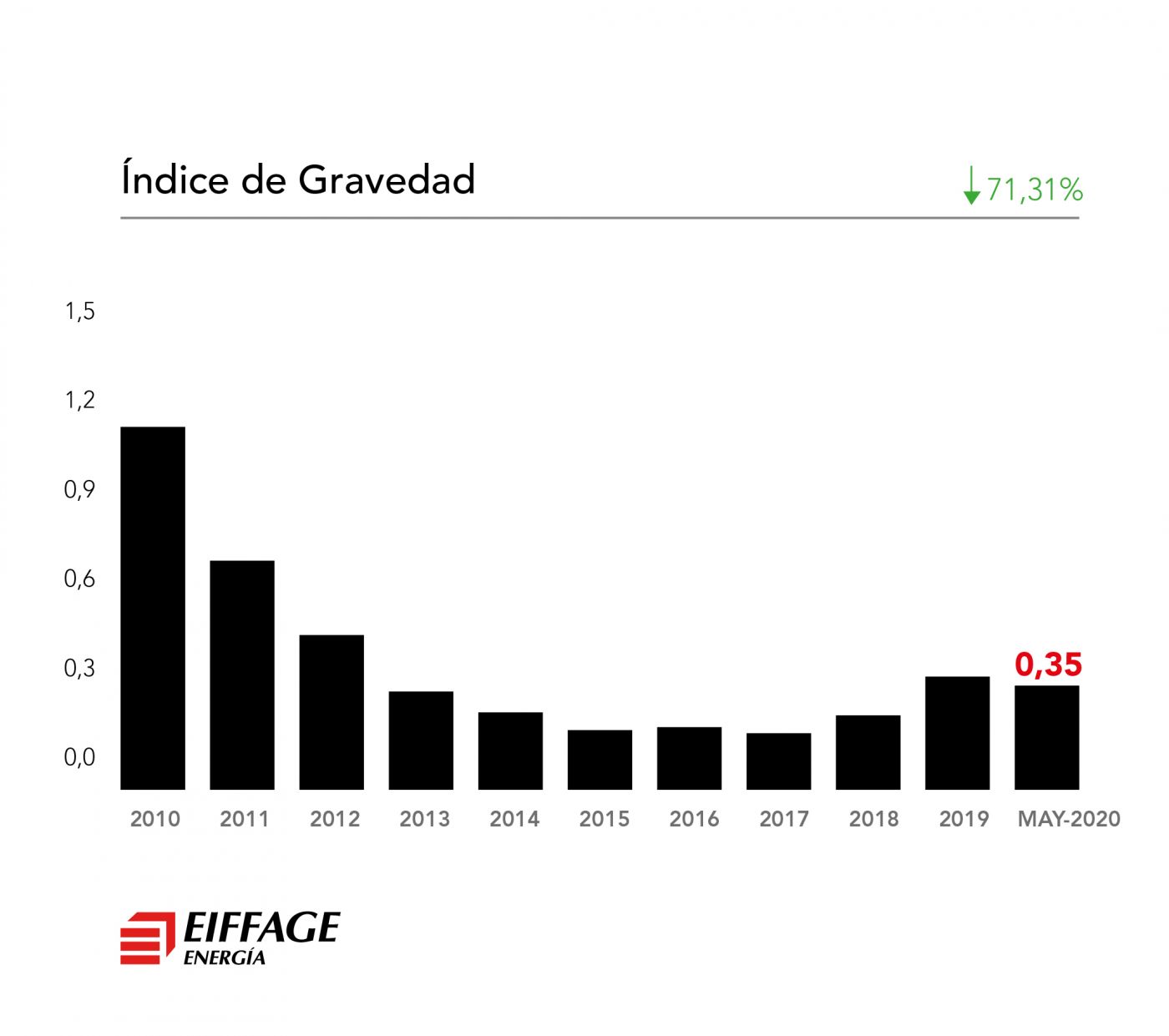 Another of these indices is the Severity Index, which expresses the number of days lost per thousand hours of exposure to risk (worked). The value of this index in 2010 was 1.22, and it fell to 0.35 at the end of May 2020, a decrease of nearly 71.31%.