To mark World Environment Day, we have published this article in the newspaper LA Tribuna de Albacete
The Ministry for Ecological Transition and the Demographic Challenge has registered the Eiffage Energy Group in the Register of Carbon Footprint, Offsetting and CO2 absorption projects.
Activities involving the design, implementation, commissioning and maintenance of electrical and mechanical installations; renewable energy generation and energy evacuation systems; construction of all types of building works; as well as the sale of electromedical equipment for diagnostic imaging and its technical assistance have been included.
This certificate pertains to Eiffage Energía and its subsidiaries Conscytec; Instalaciones Eléctricas y Bobinaje; EDS Ingeniería y Montajes, S.A; Electromedical; Eiffage Energía México; and Eiffage Energía Chile.
The purpose of these credentials is twofold. On the one hand, it makes it easier for organisations to demonstrate their participation in the register and, on the other, it allows them to show the amount of effort they put in to the fight against climate change.
Eiffage has been publishing its internal carbon footprint since 2008, seven years before it became a legal obligation. Accordingly, the Group has focused its innovation policy and its R&D investment on the low-carbon economy.
Projects
Some of its major projects act as catalysts for solutions developed by all of its business lines. Far from being a constraint, low-emission construction is an opportunity to make a difference at the service of shared sustainable development.
Renewable energies are one of the pillars of the company, and are a sector in which it has been working for over 20 years. Eiffage Energía is responsible for nearly 80% of the Eiffage Group's renewables activity worldwide, avoiding the emission of more than 13 million tonnes of CO2 per year into the atmosphere.
A recent example is what will be the largest 100% photovoltaic self-consumption installation to be commissioned in Spain, and one of the largest in Europe, built by Eiffage Energía and developed by the Cosentino Group, on the Industrial Park that the multinational owns in Almería. This project is based on a new model of renewable electricity management in our country's industrial sector, thanks to which 25% of total electricity will not only be green, but will also be self-generated photovoltaic energy.
Furthermore, this project will not only contribute to reducing the carbon footprint, but will also be combined with a biodiversity recovery initiative. 15 hectares forming part of the solar farm will be dedicated to a biodiversity project, based on the planting of native flora and species.
Islazul Shopping Centre
Another example of Eiffage Energía's commitment to reducing its carbon footprint can be found at the Islazul shopping centre in Madrid, a benchmark in sustainability both in Spain and abroad. At this centre, Eiffage Energía has run several activities aimed at its decarbonisation as part of the Cushman & Wakefield ORIGIN Sustainability Plan.
From among the energy saving and efficiency measures that have been developed, emphasis should be placed on the replacement of all the lighting in the shopping centre with LEDs; the installation of frequency changers in cooling towers and closed circuit pumping system of hot water to the premises; the replacement of motors with more efficient IE2 ones; updating of the obsolete BMS system to TREND; the expansion of its photovoltaic self-consumption facility and the installation of motion sensors in technical corridors to turn off lighting circuits when there are no people present, etc.
It is yet another step forward for this shopping and leisure venue, which already achieved the highest BREEAM certification score in the retail sector; the double rating of outstanding; and it has been nominated for the prestigious BREEAM Awards in 2022.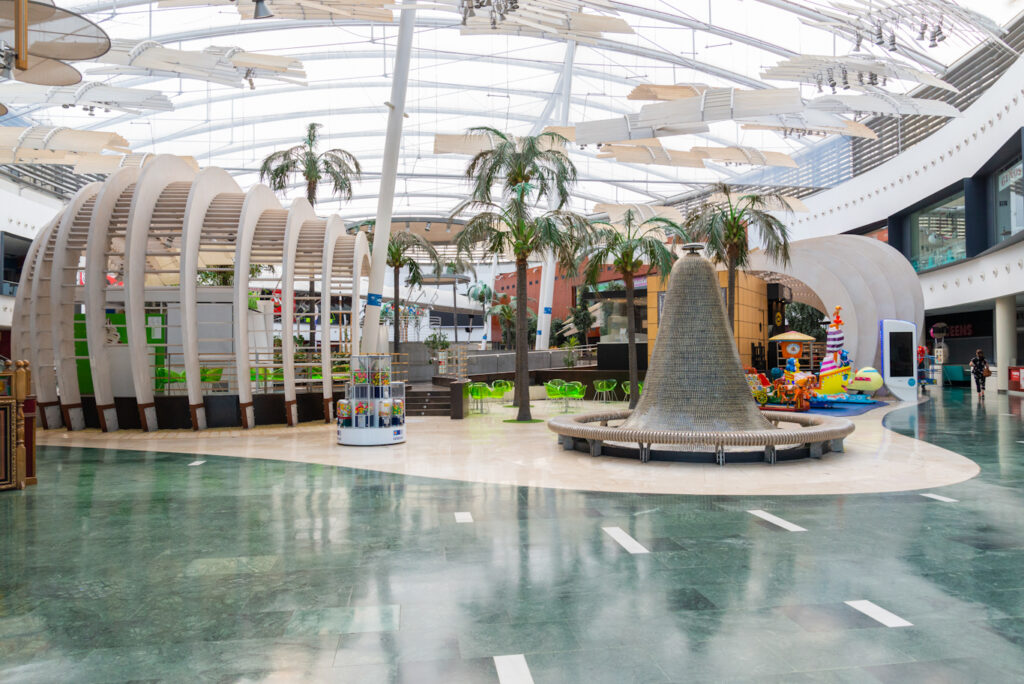 Sustainable construction
In addition, Eiffage's subsidiary Conscytec is using industrialized construction methods. These take the form of contra-laminated timber (CLT) frames, prefabricated bathrooms and façades with timber trusses.
This is a milestone that represents a radical change and improves project management; reduces construction times; considerably reduces the volume of waste; minimises the use of manufacturing emission-intensive materials and improves health and safety in construction. The aim is to sustainably contribute to reducing the carbon footprint of our projects.