A total of 90 students from the Cayetano Sempere Secondary School have visited the 35 MW Turroneros photovoltaic plant, which we built for X-Elio in Jijona, Alicante. This is X-Elio's first photovoltaic plant in the Valencian Community.
The students, accompanied by several teachers, wore the appropriate PPE while visiting the facility (safety helmet and reflective waistcoat) to ensure their safety.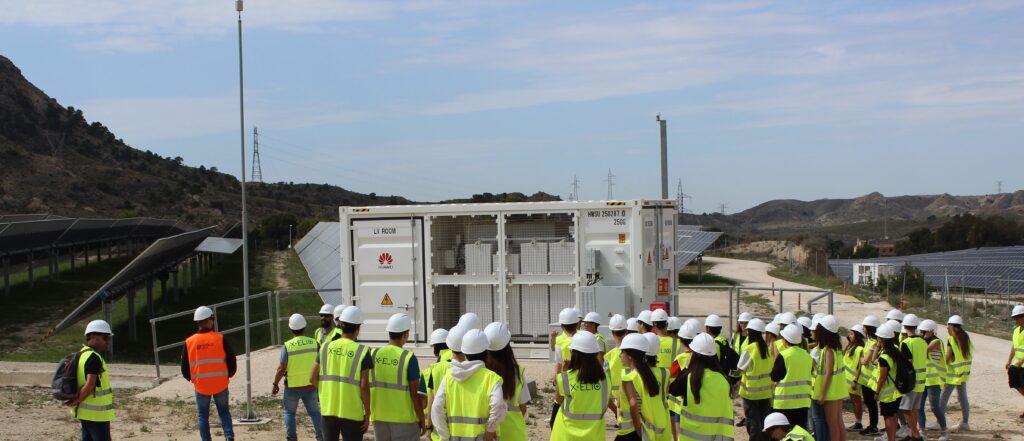 Turroneros
This photovoltaic plant produces 65,325 MWh per year, avoiding the emission of 42,460 tonnes of CO2 per year and providing clean energy to more than 19,175 households.
Works to prepare the site, and assemble and install the panels generated 382 jobs at the time, and involved a dozen companies from the area.
Eiffage Energía Sistemas is the company in charge of the construction and O&M of several of X-ELIO's solar farms in Spain and their respective connection substations.
We are one of the leading companies in the BOS and EPC construction of photovoltaic facilities in Spain and internationally. Furthermore, it is worth highlighting Eiffage Energía Sistemas' commitment to the execution deadlines for 100% of its projects, which is a guarantee for the photovoltaic developer.
The figures speak for themselves: we are the company that has built the most renewable facilities in Spain: 95 solar plants, with an installed power of 4.7 GW; and 97 wind farms, with an installed power of 3.5 GW.
We have currently been contracted for the maintenance of almost 5GW in Spain and we have 300 people working exclusively on the maintenance of solar farms and high voltage infrastructure.
In addition, we have two operational control centres dedicated to the monitoring of photovoltaic plants, at which we provide O&M services.