Montesol Solar Power Plant in Teruel. Opdenergy, a company specialising in the development, financing, construction and maintenance of renewable assets, has contracted Eiffage Energía to build its Montesol photovoltaic solar plant. The plant has a capacity of 50 MW and is in the municipality of Cañada Vellida, in Teruel, occupying 112 hectares.
Construction of this plant is expected to be completed in the last quarter of 2020.
Eiffage Energía will execute the civil engineering work, mechanical and electrical assembly, SCADA and monitoring. The project also includes construction of a substation and an evacuation line.
More than 90 GWh of green energy per year
The new Montesol Solar Plant in Teruel will generate more than 90 GWh of green energy per year. This is approximately equivalent to the annual consumption of some 25,000 homes in Spain and a saving of 39,000 tonnes of CO2 emissions. It will also have 135,128 photovoltaic modules and eight 5.2-MWA and two 2.6-MWA transformers.
The new Montesol Solar Plant in Teruel will generate more than 90 GWh of green energy per year.
Opdenergy and Eiffage Energía have collaborated on different projects since 2011. Specifically, they have built and commissioned over 14 solar plants totalling 230 MW. Both firms have worked on international projects in countries such as the United Kingdom, Mexico and Spain. One of the latest joint projects was the La Fernandina solar plant in Mérida (50 MW), which started operation at the end of 2019.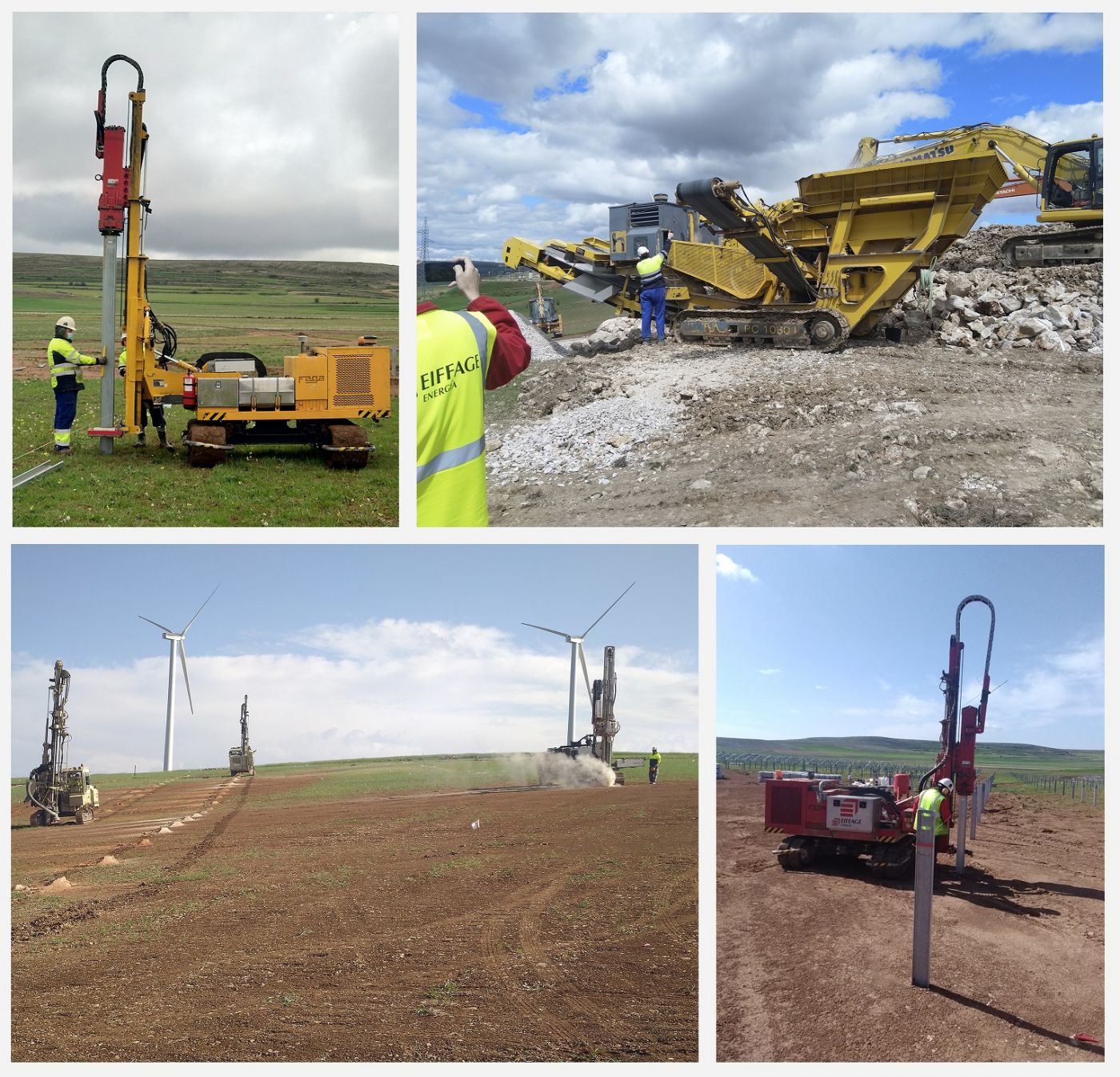 Eiffage Energía: a leader in the construction of photovoltaic facilities
Eiffage Energía has extensive experience in solar projects. We are one of the leading companies in the construction of photovoltaic facilities in Spain and internationally. In 2019, Eiffage Energía installed a total of 1,012 MW of photovoltaic power through projects in Spain, Mexico, Chile and Jamaica. Of these, more than 750 MW were installed in Spain. It is now one of the companies that has built the most facilities of this type in Spain. Because renewable energies are one of the company's mainstays, a sector in which we have been working for more than 20 years. Eiffage Energía is responsible for nearly 80% of the Eiffage Group's renewables activity worldwide, avoiding the emission of more than 10 million tonnes of CO2 per year into the atmosphere. Among the most important projects that began operation in 2019, the Huatacondo solar plant, "S4 Solar", is noteworthy. It is one of the most important solar projects in Chile, with an installed capacity of 103 MW. Eiffage Energía also built, together with Schneider Electric France, the Paradise Park plant in Jamaica. It was connected to the grid last year, providing the Jamaican market with the most competitive electricity in its history.
Opdenergy: International leader
OPDEnergy is a company with extensive experience in the development, construction, operation and financing of renewable energy assets, in both the photovoltaic and wind power sectors. This company has successfully developed numerous projects in different parts of the world, thanks to its notable international presence. The firm currently has offices in Mexico City, Santiago (Chile), Florida, London and Turin. Since its inception in 2005, Opdenergy has raised more than 1.45 billion euros in project financing and equity investments in photovoltaic assets in Spain, Chile, Mexico, Italy and England. In addition, the firm has demonstrated a strong capacity for development of renewable energies through the signing of public agreements and private PPA contracts for a total capacity of 650 MW. Besides that, the company's growth potential is endorsed by a portfolio of projects in the short and medium term for more than 8GW of solar and wind power, as well as by the 271 MW under construction, of which 160 MW are in Chile (50 MW in wind power assets and 110 MW in solar assets) and 111 MW are in Spain. 11.05.2020: Opdenergy contracts Eiffage Energía for execution of its Montesol photovoltaic plant, in Teruel The news in the media: Renewable Energies Energética XXI Futur Energy Renewables Now World Energy Trade PV Magazine The Energy Newspaper Teruel Newspaper Albacete Newspaper Smart Grids Info