H2 Project. The area of green hydrogen, Eiffage Energía Sistemas' strategy is to promote the ecological transition and implement a low-carbon model. How? By combining all technologies available on the road to sustainability.
Our aim is to be a national and international benchmark in the development of green hydrogen production projects, from electrolysis to decarbonize heavy transport or industry.
To achieve this, we are currently working on a pilot project, located at the headquarters in Albacete. This project consists of the production of renewable hydrogen from the electrolysis of water.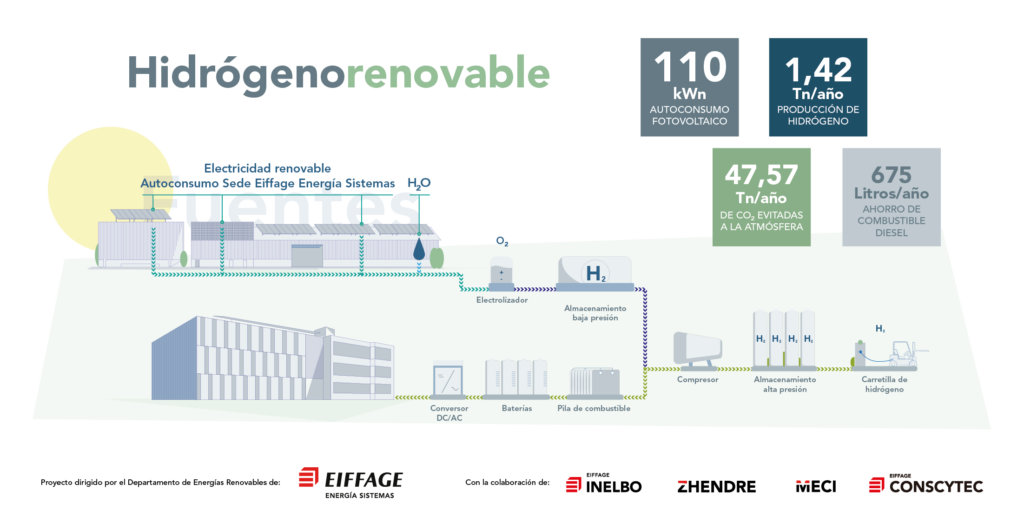 Process
We are adding a new 126kWp facility to our existing 58kWp self-consumption photovoltaic system. This will feed an electrolyser with treated water and renewable electricity, of which 45kW will be allocated to this project. The remainder will be distributed to be consumed by the headquarters.
Electrical and mechanical tests have already been carried out in Bordeaux. The container for the hydrogen plant has recently arrived at our headquarters in Albacete for the electrical connections and the mechanical and piping installations.
The renewable hydrogen that is produced will have two uses:
• We will store some of it at 35barg pressure to be compressed through a piston compressor from 35barg to 500barg. The compressed hydrogen will be stored in high-pressure cylinders for fuelling a 5-tonne warehouse forklift truck. A fuel cell powered forklift truck driven by an electric motor.
Energy storage system
In parallel, when the high-pressure storage tank is completely full and the forklift does not need to be refuelled with H2, we will use the stored hydrogen to run the electrolyser's inverter process. We will run it through a fuel cell to generate electricity. And this electricity will be consumed by the headquarters as if it were an energy storage system. Everything will be controlled by a system that will synchronise the automatic operation of the whole installation as well as its component equipment: process equipment; electronics, automatic values; H2 sensors; H2 analysers; and instrumentation.
Phases
Electrical and mechanical factory acceptance testing has already been carried out in Bordeaux. The container has arrived in Albacete and is awaiting electrical connections and mechanical/piping installations.
Pre-commissioning; commissioning; test circuits; and commissioning will take place in the coming weeks.